I created this area to describe the work I enjoy and how I go about it. My first shot at this was trying to illustrate the process of making an aviation painting destined to be submitted to the Guild of Aviation Artists Summer 2012 exhibition. I now include a similar "day by day" account of the creation of a wildlife painting. So instead of propellers and people the problem now is fur and rocks!

I've had a couple of cracks at wildlife before as you have seen on this site and at www.painters-online.co.uk where I have posted similar images. This time I was inspired to try the Leopard after attending a workshop given by Chris Jones at the Nature in Art Museum in Gloucester. Chris is an internationally known artist and a very good teacher. Although the course was "Painting fur and feathers in acrylics", I've taken some of his advice and used it to provide a framework for this oil painting.
Final Acrylic work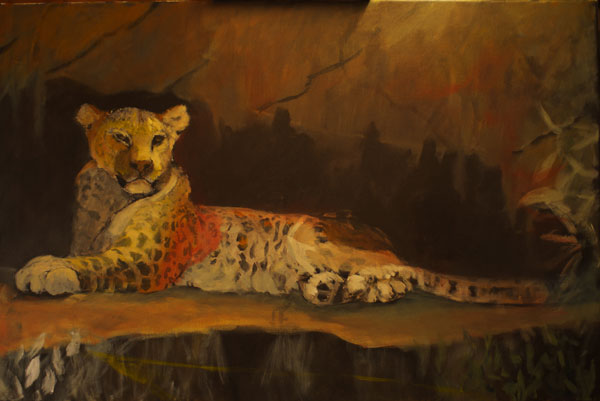 Base colour applied
27/10/2012
Sorry about this image. I'm better with a brush than a camera. This is the first time I use white (Titanium) and slightly thicker acrylic paint to lay down some fairly bright colours on the animal. I also sketch in some foliage on the right hands side. I now put the painting away for a couple of days to think about where I'm going with it.